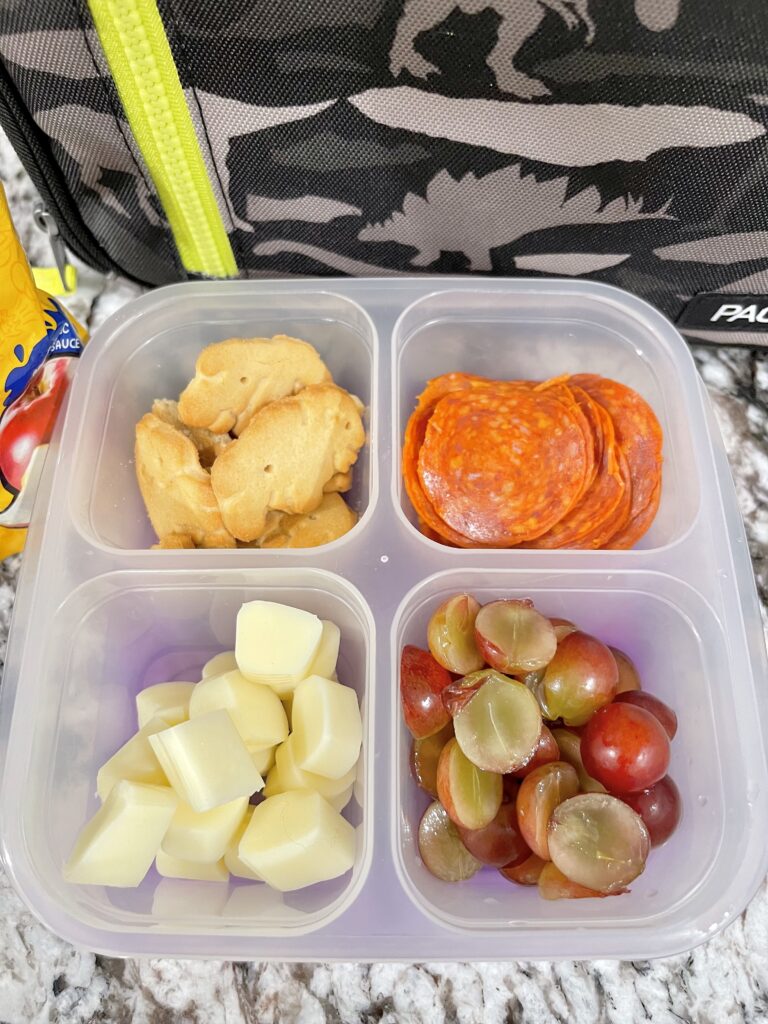 Creating a balanced lunch for your littles can be a challenge for every parent, but when you add in food allergies, a whole new set of issues emerges. When packing my son's gluten free lunch, I don't want him to feel left out or different from the other kids, but I also want to ensure he's getting adequate protein, fruits, and veggies. These Gluten Free Lunch Ideas for Kids will help simplify your life in the morning when you're getting your kid's lunch ready.
Balanced, healthy-ish lunches to help your gluten free child grow and flourish without feeling different from their peers is what this post is all about. Getting these picky eaters to enjoy lunchtime at school is easy when you incorporate foods they like with the nutrition they need. The foods I have included in this list are all of the foods my son loves and will actually eat. To get this list narrowed down took a lot of trial and error, but now he gets excited for lunchtime at school and eats everything I send with him!
If you want to get your kids involved in packing their own lunches, show them this list and let them pick an item from each category to create a balanced meal you're happy to feed them that is also packed with the nutrition their growing bodies need.
Refrigeration can be an issue when sending items that need to remain cold throughout the day, so make sure you are using a lunchbox with multiple ice packs, or invest in a freezable lunchbox. These freezable lunchboxes are soft and collapsable, so they don't take up much room in your freezer. What I like most about them is that the entire lunchbox freezes to keep your child's lunch cold without the need for additional ice packs.
Compartmented containers are great for packing kid's lunches. They are the perfect size to fit in a lunchbox while leaving room for extra items, and they help you portion your child's meal. Any Bento style container will work, but these two variations are my favorite. Option 1, Option 2
I usually add one item from each category below and then choose a second item from fruits and veggies to round out my little one's meal.
Protein:
String cheese
Lunch meat (Boar's Head meats are gluten free)
Cheese cubes (cut up cheddar, mozzarella, colby, colby jack)
Pepperoni
Salami
Yogurt (pouches or small containers, try to choose ones without added sugars)
Cheese sandwich on gluten free bread (Canyon Bakehouse is hands down the best shelf-stable gluten free bread and is sold in Walmart stores across the US)
Sunbutter and jelly sandwich on gluten free bread (most schools have banned peanut butter)
Sunbutter cracker sandwiches using Schar table and entertainment crackers
Cheesy roll-up (wrap cheese in a gluten free tortilla and roll it up—Mission almond flour tortillas taste like regular flour tortillas)
Fruits & Veggies:
Sliced carrots
Sliced cucumber
Hummus (also has protein)
Applesauce (my kid prefers the pouches for school)
Fruit and veggies baby food pouches (Beech Nut and Earth's Best are our favorite brands)
Sliced apples (spritz with lemon juice to keep from browning)
Banana
Pineapple tidbits
Mandarin oranges
Raisins
Sliced grapes (it's important to slice grapes in half to prevent choking)
Blueberries
Sliced strawberries
Watermelon (cut into bite-sized cubes)
Pickles
Treats:
Dry cereal (Lucky Charms, Cinnamon Chex, Chocolate Chex, Honey Nut Cheerios are all gluten free)
Simple Mills Sweet Thins Honey Cinnamon (taste like a graham cracker)
Simple Mills Sweet Thins Chocolate Brownie (taste like a chocolate graham cracker)
Pamela's Gluten Free Honey Grahams
Fruit Snacks (Mott's are the best!)
Katz Heavenly Creme Cakes (taste like a Twinkie, sold in the freezer section and will thaw by lunchtime)
Katz Heavenly Creme Filled Cupcakes (taste like Hostess Cupcakes and will thaw by lunchtime)
Yogurt covered raisins
Gluten Free animal crackers (Glutino and Simple Truth)
Udi's sells frozen blueberry muffins that are delicious and will thaw by lunchtime
Annie's Gluten Free Bunny Grahams (like a Teddy Graham but shaped like bunnies)
Snacks:
Simple Mills Farmhouse Cheddar Crackers (come in snack-sized bags as well)
Schar Entertainment Crackers (taste like Ritz)
Schar Table Crackers (a gluten free saltine-style cracker)
Chips—I prefer to give my son the Simply Lay's brand because they are made without artificial ingredients and dyes and they are labeled gluten free. They also come in a variety of flavors. Cape Cod potato chips are a fave in our house as well)
It's all about balance
I try to balance my son's nutrition and let him eat 80% clean and 20% fun so he doesn't feel left out and different. Learning how to navigate your child's gluten intolerance can feel overwhelming, but there are a lot of products to help you let your child be a "normal" kid. Katz brand is my favorite for those types of items. They have a "Twinkie," a "Hostess Cupcake," glazed donuts that taste like Krispy Kreme, and donut holes! 
Schar brand has "Twix" bars, hazelnut wafers, and snack cakes that are shelf-stable and great for a sweet treat once in a while. 
Make a batch of gluten free cupcakes and freeze them. They keep in your freezer for up to 3 months and are great to pull out and ice with a store-bought gluten free icing, like Duncan Hines and Betty Crocker. Send one with your child to school on days you know there is going to be a birthday celebration and a friend is bringing cupcakes for the class. You can coordinate this with your child's teacher in advance so your child feels included in the celebration.
This list is not comprehensive, but it will give you a good starting place for helping your gluten free little one thrive at school during lunch and snack times!
I also want to point out that I don't go to specialty stores for these items. This list is compiled from products I have bought at my local grocery store, Target, and Walmart. Costco, Trader Joe's, and Whole Foods all have a great selection of gluten free items as well, but they aren't always accessible for some people. I know when we lived in a small town, the local grocery store and Walmart were the only places for me to buy groceries, and all of these items were readily available at one or the other. 
*Affiliate link "As an Amazon Associate I earn from qualifying purchases.*
A few gluten free healthy snacks that are kid approved:
Gluten Free Cookie Dough Energy Bites
Gluten Free Little Bites Brownies
Chocolate Hummus (gluten free, vegan)